TinMan AI Builder Professional V1.22
TinMan Professional Version:

The TinMan AI Builder is an integrated development platform and runtime SDK for creating and deploying autonomous artificial intelligence based on neural networks. Fully abstracting the theoretical and mathematical tedium associated with neural networks, the IDE fully harnesses the human-like behavior modeling possible with this best-approach biological metaphor.
---
TinMan AI Builder's IDE (integrated development environment) provides a complete suite of break-through, user-friendly tools to Design, Train, Simulate and Package an artificial intelligence engine for deployment in a host application. TinMan AI Builder's visual design approach makes it extremely easy to rapidly assemble complex human thought patterns.

Types of host applications may be: Computer Games, Industrial Process Automation and Monitoring, Robotics projects and autonomous behavior, Medical diagnostics/therapy recommendations, Customer analysis and prediction, Law Enforcement / Criminal analysis, Banking / investment / Fraud analysis and prevention, Military / Defense and unmanned vehicle applications, Aviation and Flight simulation, Mining and Mineral Analysis, and any other target application that requires an AI engine for making decisions based on a dynamic stream of data.

The process of building an AI engine is simple: Design (visually construct), Train (embed knowledge), Simulate(test) and Package(export). The IDE allows you to design virtually any form of intelligence engine and then integrate with a simple class library into your application. Even though it is easy to use our AI builder, we can do it for you.
If we build it for you,
we simply get your specifications for the desired AI functionality, design and provide the resulting AI engine and runtime. We even can develop the host application (or test harness) for you. Ask any questions directly by sending email to
support
.
NEW:
Cloud Based AI

now available via professional services. Click Here for Info TinMan has custom add-on functionality and service components for

image/pattern recognition

,

behavioral analysis

and

natural language processing

. For more information on these extensions, please contact us here.
---

Overview of the key steps to designing and deploying an AI system:

Design - Layout the Structure of the AI System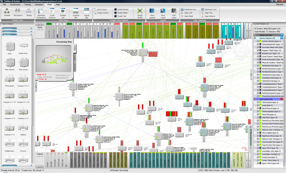 TinMan AI Builder and Integrated Development Environment [IDE] provides a best-of-breed combination of several forms of logic, improving flexibility, accuracy and reliability of the AI systems produced. The IDE allows the creation of AI systems through familiar drag and drop operation for the Inputs to a system, the outputs from a system and the logical components that provide the decision-making linkage between the inputs and outputs. The AI systems produced with TinMan AI Builder can receive input from many inputs simultaneously, and accurately produce and manage many output actions simultaneously. The models themselves can be interconnected, allowing both finite (single/exclusive) and multi-state management (simultaneous state execution) with near limitless depth and breadth.
Train - Embed Expert Knowledge into the AI System
TinMan AI Builder provides extremely fast and effective training of its logical models based on highly optimized algorithms. After a TinMan state model is added to the AI system, and given its desired inputs and outputs, it is ready to be trained. Training involves the presentment of a set of anticipated scenarios along with their respective desired outputs to the model. TinMan conveniently and automatically produces possible input sets. This knowledge is retained through the mathematical adjustment of the relationships among model elements and their connections within the model to produce all desired outcomes across all scenarios.
Simulate - Test the AI System through Simulation
Simulation in TinMan AI Builder is possible once the AI system is constructed and the models have been trained. Simulation is an important step in ensuring the AI system is performing the way it is designed to, and all models are responding to their respective scenarios as instructed. During simulation, the AI System visually displays status of variables, status of all logical models, and currently selected outputs. The effectiveness of simulation is significantly enhanced through the use of several IDE simulation features, such as integrated action-specific sound, dynamic variables, integrated input controllers, live-wire view of active connections, breakpoints and others.
Package - Produce the Runtime AI System
When you have finished designing, training and simulating the AI System, the system must now be put in its final form for runtime access in the host application. This process is referred to as Packaging. When packaging a system, the TinMan Packaging Wizard will step through the process, and ensure that all models throughout the new AI system are connected and trained. TinMan will also strip out all unnecessary elements, such as project items, visual elements and lengthy text descriptors and leaves just the physical AI systems and its described interfaces to inputs and outputs. Thus, size is reduced and speed is enhanced in the process. This file is now capable of being read by the runtime libraries, and thus utilized by the host application through simple class library functions for loading and executing.
TinMan AI Builder Screenshot Gallery (click on the picture to expand)
Work at the Model Level for Rapid Design of Complex AI Systems
Assembling an AI system is done while working at the model level. By dragging and dropping selected neural model types, and then connecting them together, a logic flow and associated feed of input data is achieved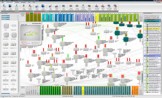 Behavior trees and their associated inputs and outputs are extremely straight forward to assemble - leaving a model structure that closely resembles how you might approach a situation. Simultaneous or exclusive behaviors / states are simple to create.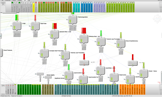 Embed Kn
owledge
for each Model Instantly, and Retrain at Any Time
The integrated scenarios worksheet is shows each of the possible scenarios for a given state model, assigning new outcomes is as easy as right click and assign by click operations. Color coded values assist visual context quickly.

---