The Build and Deploy Process
The TinMan approach to building and deploying an AI system is designed to be efficient and straight-forward. TinMan AI Builder provides the environment, technology and tools to create and package for runtime, an artificial intelligence core (AI Core). The TinMan AI Runtime Libraries are integrated with a host application to load and utilize that AI core to make runtime decisions in the host system.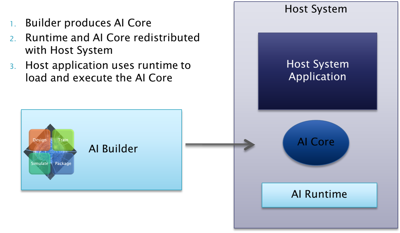 At runtime, the host application utilizes the AI Core through the use of 3 simple steps (each with a single API call using easy to use exported class libraries). At each instance of time on a continuous basis, (or in response to a single manual event in the host application):
<![if !supportLists]> 1) <![endif]> Update the values of variables.
<![if !supportLists]> 2) <![endif]> Execute the AI System
<![if !supportLists]> 3) <![endif]> Act on the returned action identifiers.